"Here's how slow typing could be killing your team's productivity (and what to do about it)"
Praised By:

Slow typing is the biggest productivity killer in 2020.
If your team works on computers, then this could save you thousands (or even millions) of dollars. Here's why: Hunt and peck typing is a sinister killer of productivity. Losing 10 minutes here and 20 minutes there might not seem like a big deal, but it all adds up to lost time and lost money. To see how much slow typing could be costing your business, try the handy estimator below:
Productivity Lost Because of Incorrect Typing
Dollars lost daily
$1,485.00*
Dollars lost annually
$387,585.00*
* Based on a 33% increase in speed. To be used as a guide only. Actual improvement may be more or less depending on the nature of the work, the intensity, and other producivity factors.
The solution – Typesy for Teams boosts productivity after just 2 hours of use
The solution – Typesy for Teams boosts productivity after just 2 hours of use.
Typesy for Teams is the only typing training designed specifically for teams. Typesy's professional curriculum teaches correct typing, and teaches it fast. Typesy uses the science of muscle memory and structured repetition to quickly enforce the habits of correct keyboard technique and finger placement. The result is an immediate and tangible productivity boost for your team.
Used by top companies worldwide.
Typesy for Teams is the leading premium typing program for business. Countless top companies and institutions rely on Typesy every day. See some of our happy customers here.
Lethbridge Public Library
Lethbridge, AB, Canada
National Health Service UK
Leicestershire, UK
Grace Institute
New York, NY, USA
Smarter Staff Training
Gardnerville, NV, USA
Imagine IT Inc.
Minneapolis, MN, USA
Immigrant and Refugee Community
Portland, OR, USA
AMIDEAST
Washington, DC, USA
Goodwill Industries
Maple Shade, NJ, USA
SSM Health
St. Louis, WI, USA
Heritage Resources
Manitoba, Canada
MEDITAB
Mer Rouge, LA, USA
Know your ROI – easily track team usage and improvement.
With Typesy for Teams you can get detailed reports on how your team's typing is getting faster and more accurate. You can see how much time they have spent training, how much they have improved, and easily know your ROI. Typesy is ideal for reporting success to management and motivating your team.
Simple Management. Powerful Reporting.
Make it competitive and fun
Make it competitive and fun.
Your team will have a great time improving with Typesy. Let them compete in the team hall of fame, strive for status levels, get points and play fun games. Motivating your team to massive productivity gains is easy with Typesy.
Test your team and new candidates.
Not only is Typesy a great tool to improve your Team's productivity, it's also ideal for many HR activities. With Typesy for Teams, you can easily test the typing of new candidates. Issue a test in a few minutes, and a detailed analysis of your candidate's Typing, including speed, accuracy, keyboard coverage, and more.
Test your team and new candidates.
Issue and print verifiable Typesy certificates. Let the team share their certificates and Typesy profile.
Typesy for Teams issues official verifiable certificates. This gives confidence of staff improvement and helps the team feel a strong sense of achievement. Your team can even share their certificates and achievements via their Typesy profile.
Real. Professional. Training.
Typesy's typing course combines detailed video training, scientifically designed exercises, a structured curriculum, and fun game-like mechanics. It's all designed to make Typesy effective and give you the maximum productivity boost in the minimum time.
Real. Professional. Training.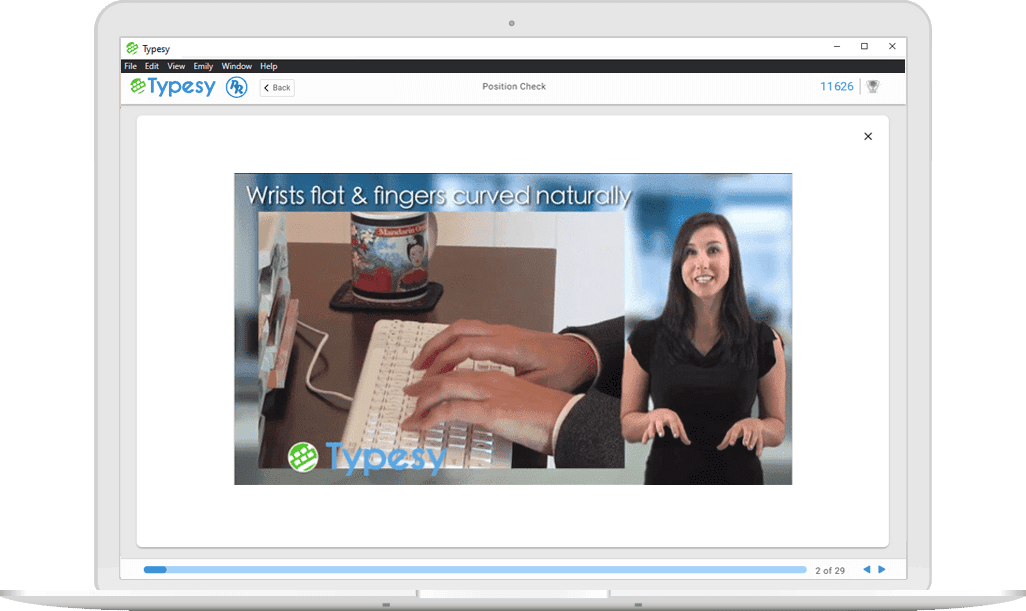 Ergonomics. For a safer, happier team.
Typesy for Teams includes detailed sections on ergonomics to help reduce the chance of back problems, eye fatigue, and painful RSI.
No IT headaches.
Typesy works on the web seamlessly with no IT support required. You can be up and running with your team in 5 minutes. And you can also download apps for Windows, Mac, and iPad.
Any location. Any time.
Your team can log in on any computer in any location, and on any device. And they instantly access the same account, results, and course progress.
Unlimited phone support. Unlimited upgrades. Concierge service.
phone
Unlimited Phone Support
Your subscription comes with premium unlimited phone support for teachers and administrators. Whenever you need some help just give us a call.
file_upload
Unlimited Upgrades
Typesy web, desktop, mobile and chrome apps update automatically to ensure your software is always running smoothly on the latest version.
contact_phone
Concierge Service
Your dedicated support rep will work with your IT people to set up Typesy. We do everything for you. Concierge service is free with your subscription.
Our fearless 12-month "refund and $50" guarantee…
It's one thing for a company to promise that they'll give you your money back if you don't enjoy their product. That doesn't say much.
Here's why Typesy is different: we want our guarantee to show you exactly how sure we are that our typing tutor software is the best in the market.
We're so confident that Typesy will help you triple your team's typing speed—and increase their productivity—that we will put our money where our mouth is.
How to access Typesy for Teams in the next 5 minutes.
You can start boosting your team's productivity right now. Simply click the button below to get started, and we'll send you immediate access to your Typesy for Teams admin and user accounts.
For orders larger than 35 users, click here