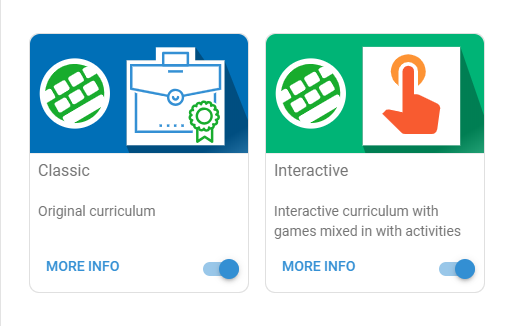 ---
The basics of typing may have remained the same over the years, small changes in conventions aside, but the way we teach it and learn it should be dynamic and fun. If it's up to us at Typesy, long gone are the days when learning to type meant boredom and accidental naps, typing repetitive sentences into the computer until hand placement is burned into your brain. We keep our games lively, current, and ever-changing, so that you love typing as much as we do.
With that in mind, Typesy has introduced a new interactive curriculum, available for all editions of the program. Read more for a brief description of each kind of curriculum.
Original Style: The Professional (Classic) Curriculum
The classic curriculum is all about the basics. Your learning starts with finger placement and technique, with a focus on unlocking the skill of touch typing. You then move on to accuracy and speed so you can rival even the best professional typists. This 42-hour program is good for professionals looking to improve WPM (Words Per Minute) for work, school, or maybe a blossoming career as a blogger. We recommend this curriculum for people over 15 years of age who want to type quickly – 40-50 words per minute, to be specific.
The New Stuff: Interactive Curriculum
We were already committed to a productive, fun way to learn and improve typing, but this update, available to all versions of Typesy, integrates even more teaching methods and activities into the curriculum. It's best to learn in a variety of ways, to cement the techniques and theories deep into your mind, even with a primarily physical act like typing. We also accommodate learners who learn best through visual stimuli, auditory engagement, and tactile techniques, among others. This version of Typesy is designed to appeal to and support younger typists, starting around seven years of age, as well as our older students.
We use video teaching, exercises scientifically designed to engage with the necessary learning centers to teach typing, and lots of games and activities. This curriculum won't be unfamiliar to someone who's used to our classic teaching style, but it has increased interactivity and engagement to keep you invested in learning. With 1156 lessons of all sorts, typists of all ages can improve their typing speed without excessive repetition of content.
No matter what your typing goals are, Typesy can help you achieve them. To learn more about Typesy, click here.
Check out Typesy Community and exchange ideas related to touch typing, keyboarding, learning, technology, and Typesy program itself. Login with your Typesy Account here: https://community.typesy.com/