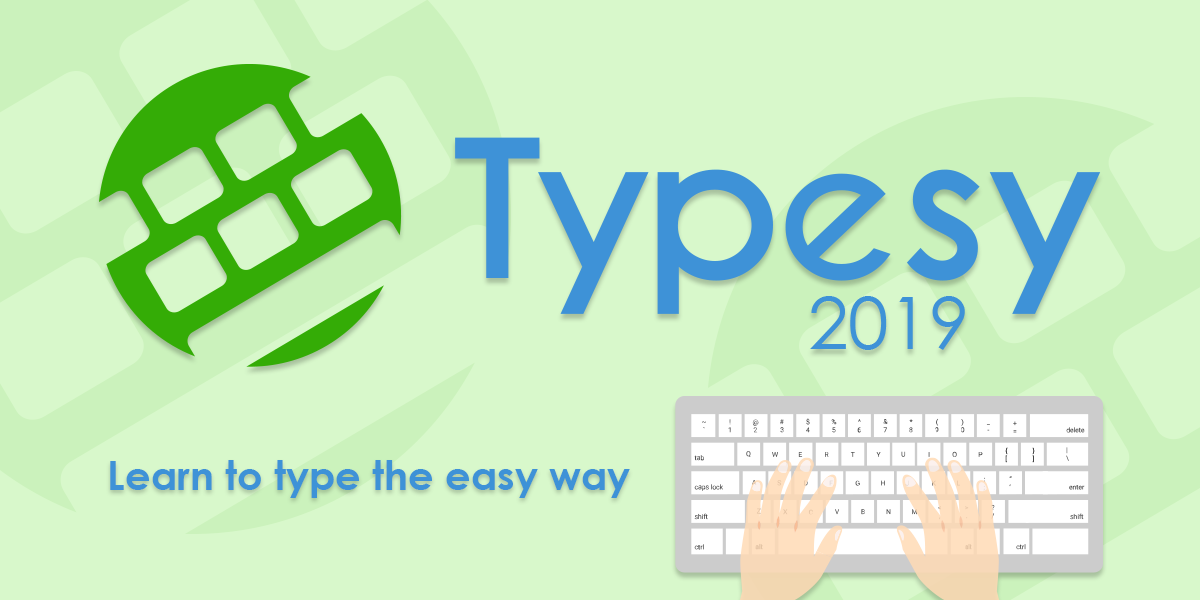 ---
Ultimate Typing, popular keyboarding software from eReflect, unveils a new name and a new look to better align with users' learning goals and ambitions.
---
eReflect announces the rebranding of its popular typing software and app, Ultimate Typing. The typing tutor is now named "Typesy" but the software and app that lets students and professionals improve their touch typing skill and speed through interactive games, exercises, and step-by-step video tutorials is essentially unchanged.
Typesy continues to offer the features that Ultimate Typing users know and love: video tutorials that guide the learner through each touch typing activity; adaptive learning and customizable learning goals; fun, interactive games and exercises; and a user-friendly, intuitive interface that makes learning on any device easy and seamless.
The move from "Ultimate Typing" to "Typesy" was a conscious effort by eReflect to better align its keyboarding app with the demands and expectations of modern users. In part, the change in name is due to the way more and more people are accessing the typing tutor: through the mobile app. The shorter name is easier to locate on a list and display on a smaller screen, making it more efficient for the user. The name also reflects the increased emphasis on focused typing instruction, although the program's popular video instruction courses that cover ergonomics, employment tips, and other topics related to keyboarding are still included for free with Typesy.
With its catchy and easy-to-remember name, Typesy will now better align with its market in the education industry, as its new name now more accurately voices the professionalism and efficiency of the keyboarding software. Marc Slater, managing director at eReflect commented about the launch of the Typesy brand, saying:
"We are so excited to share the news of our Ultimate Typing rebranding. After a successful three-year run with Ultimate Typing, we felt it was time to upgrade the product's image and feel to better communicate the needs of today's users. People interested in learning to touch type want the reassurance that the program or app they'll invest in is efficient and user-friendly, and these are just two of Typesy's features that the new name eloquently expresses."
Over the years Ultimate Typing has been constantly evolving. The development team regularly enriches the typing tutor with new features. In 2015, the Typesy touch typing program became exclusively cloud-based, letting users access their profile and training material at any time, anywhere, and from any device.
"Typesy will continue offering its top-quality touch typing activities and games that thousands of users across the world have already enjoyed and learned from," Slater added.
With up to 5 licenses per product purchase, Typesy is particularly popular with families and small businesses, as they can use the individual profiles to practice and improve typing speed and technique. With unlimited paired devices, users can access any Internet-connected device to play the typing games and activities through the app.
One of the most highly anticipated product updates in Typesy has been its transformation into a cloud-based program available both at enterprise level and as Typesy EDU for schools and other educational institutions. The cloud version is also available for for individuals and families. The cloud-based keyboarding software syncs Typesy profiles across devices, provides unlimited installs, and gives users the ability to practice in groups.
One of Typesy's most celebrated features, its social integration with Facebook, has been proven to help users stay motivated and focused on their typing practice due to the ability the app offers to share typing milestones and achievements with friends and family.
With its new brand image and upcoming product feature expansion, Typesy 2019 aims to become the go-to solution for people who want better typing skills, and for educational organizations that want to provide students with top-level typing techniques and performance.
Typesy lets users acquire a highly desirable skill in today's marketplace, save time and money by typing fast and accurately, and improve the essential skills that benefit their personal and professional lives. eReflect plans to continue enhancing Typesy with new features and functionalities to enable more users to acquire this skill in 2019 and beyond.
Designed by touch typing experts and using the latest learning technologies, Typesy lets users learn to touch type accurately and quickly with just a few minutes of keyboarding practice per day. Users successfully completing Typesy' typing training are qualified for a Typing Certification and a free verification process so that they can show their typing credentials to prospective employers and schools.
Check out Typesy Community and exchange ideas related to touch typing, keyboarding, learning, technology, and Typesy program itself. Login with your Typesy Account here: https://community.typesy.com/